All scrapbookers have these, right? Magpie tendencies? You see something shiny and lovely and you just have to add it your collection?
It might be something in a craft shop or something not actually intended for craft by its manufacturer but you can see the possibilities. It might include tickets and labels and tags and hanging ribbons and spare buttons from clothes and pretty jars and lids and boxes and pages from magazines because they had pretty patterns on them. It might include tools that you saved up for or begged as birthday or Christmas presents from those who love you and/or humour you.
It quite likely includes little darling items that you bought because you loved them but you've never quite figured out how or where to use them, or little items that are SO darling that you can't quite bring yourself to use them up - how pretty they look in their packaging! Now and then you get them out and look at them, but then they go away again because they're just so special.
It also probably includes items you've had so long that you've forgotten all about them.... And maybe a few things that seemed like a good idea at the time, but you never quite worked out how to use them. Maybe materials for a technique you'd love to try but you haven't yet found the time or the inclination or the courage (because it looks a bit tricky).
Which inevitably leads to a situation something like this:
And that's not even all of it!!
Hooray for Shimelle's new class :-)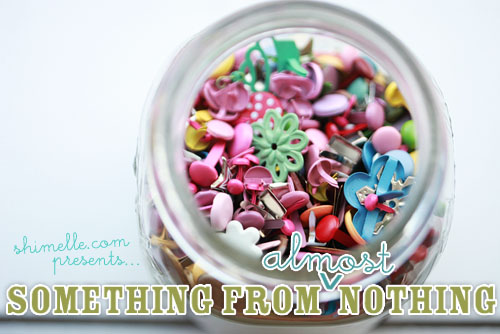 I'm hoping to make a dent in all that stash - and make room for some more! ;-)